Your new AI website-building assistant
Transform the way you create WordPress pages and posts with WPBakery AI –
create and maintain high-quality content and code with a click of a button.
Just enter your requirements, and let WPBakery AI do the rest.
Available to direct license owners for the period of one year.
Create high-quality content in minutes
Generate captivating content effortlessly right from the editor, saving time on research and eliminating writer's block.
Write code like a Pro
Fine-tune your designs like a coding expert, even without any coding knowledge required.
Improve your workflow
Boost productivity by delegating repetitive tasks to WPBakery AI, freeing time for creativity, strategy, and innovation.
Your all-in-one content, code, and translation wizard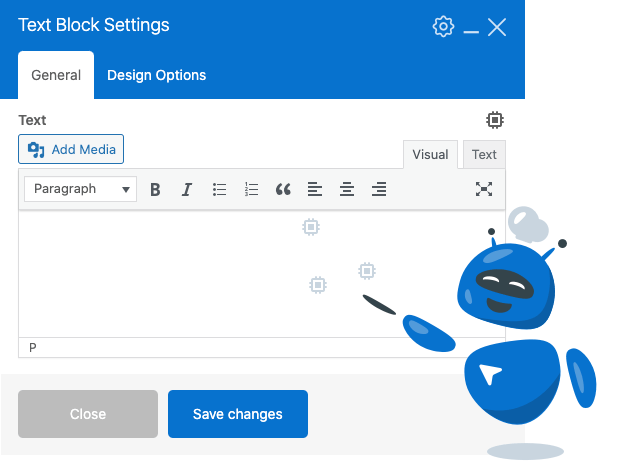 Create engaging content with a click of a button
Generate a wide range of content, from captivating product descriptions to complete blog posts, or improve existing content across your website. Just craft your prompt, choose your preferred tone of voice, refine your keywords, and watch your content come to life.
Auto-generate custom CSS and JS
Craft custom CSS and JS code with ease, whether it's for specific elements, individual pages, or your entire website. Say goodbye to complexity – our AI not only simplifies coding but also automatically integrates it with a WPBakery placeholder, ensuring seamless functionality and design enhancements.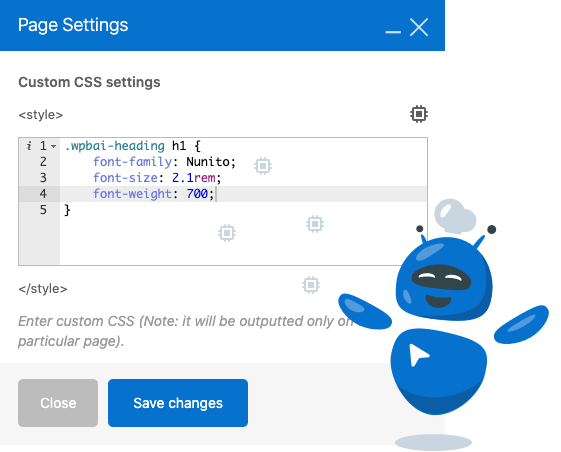 Improve your existing content easily
Improve your existing content easily. Tailor your articles, titles, and other texts for better readability and SEO. WPBakery AI understands your existing content and provides you with an alternative in seconds.
Translate your website into any language
Easily connect with global audiences by translating your website into any language. WPBakery AI simplifies the process and allows you to create prompts in any language for a seamless multilingual experience.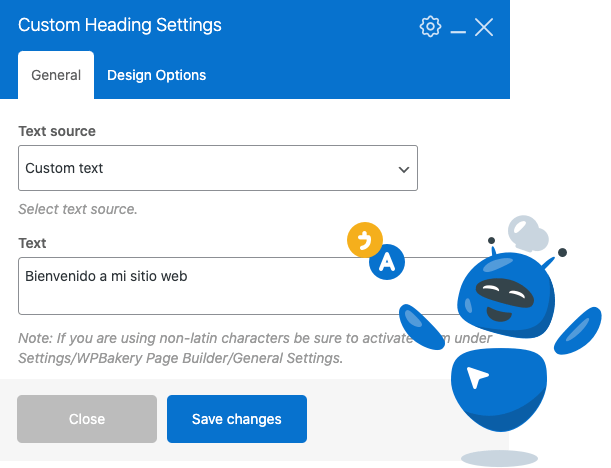 Frequently asked questions
All you may want to know about WPBakery AI – answered.
How is WPBakery AI better than standalone AI tools?
WPBakery AI offers seamless integration into your existing workflow with features like content and code generation, as well as in-editor text improvements. It's not only convenient but also cost-effective, saving you money compared to standalone solutions, while still delivering safer and more valuable responses, thanks to its advanced language model.
How can I make sure clients don't have access to WPBakery AI?
We're working on it! Access control via Role Manager is coming soon, ensuring that only authorized individuals can use WPBakery AI.
Is WPBakery AI-generated content good for SEO?
Absolutely, but it's important to review and ensure the content meets both informational and quality standards. For more information, check out Google Search's guidance about AI-generated content.
Have any other questions or need assistance with purchasing your license? Visit our Knowledge Base.
Is WPBakery AI available to all WPBakery license owners?
Absolutely! Every WPBakery direct license (regular, 5 sites, and 10 sites) owner with an active support subscription, using the latest version (7.2. or higher) of WPBakery.
What languages does WPBakery AI support?
WPBakery AI supports text generation and translation into virtually any language. You can also write prompts in your native language for added convenience.
Does WPBakery AI works with 3rd party add-ons and custom elements?
As long as an element (from theme, plugin, or custom-made) follows our development guidelines, the WPBakery AI option will be available there out of the box. For the custom elements with no access to the AI feature, we talk to the 3rd party developers and encourage you to do the same – inform your theme or add-on author so they can adjust their elements.
Ready to unlock the power of WPBakery AI?
Save time and resources with an in-built AI text generator – tailored for the leading WordPress page builder. Creating and managing content has never been easier.