Building Successful WordPress Portfolio That Sells
Showing off your portfolio on the web is common practice and a must if you are looking for a way to attract more customers for your products or services. Whoever you are – photographer, freelance web developer, artist, singer, or plumber your customers will surely find your site more interesting if they will be able to see your previous works.
There are unlimited ways for showcasing your works and I'm sure you are already using a good one, but remember that you can always make it better, right? This is why today I would like to introduce you few easy-to-apply techniques available in the WPBakery Page Builder plugin that will make your portfolio sell more. Don't worry if you do not have your portfolio yet – with these simple tips and tricks, you will have one within the shortest possible time frame. I will guide you through several concepts for building a successful WordPress portfolio which you will be able to apply as a technique to come up with your piece of art.
Types of Content
Content is king – especially if we talk about portfolio as it determines what and sometimes even how your potential customers will see your work. When thinking of content you should look into two things – what is the best type of content within your area of business and what content you have available. You can not build a photography portfolio if you have just plain text. I'm sure you know your business area really good to know what kind of content best describes your work and prepare that for your portfolio.
The main trick with the content is to understand not what type of content must be presented, but how many types of content you should combine. For example, again if you have a photo portfolio you will surely add images of yours and maybe leave them there without any description. Or maybe you should have one? Review the information available about each piece of your work and see if adding a small description brings additional value and if your customers will find this interesting. On the other hand – if you are providing copyright services you may want to focus on text and maybe get rid of any graphic materials building your portfolio in typography-based minimalism – again – not all, but just a few catchy images may drag additional attention to the most honorable works to make them stand out.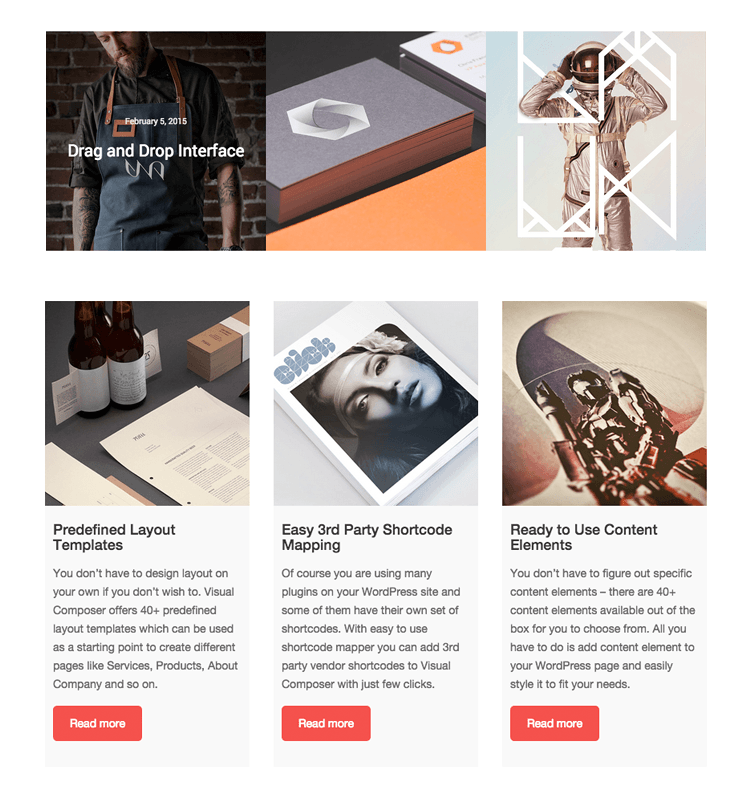 WPBakery Page Builder can help you by offering a list of amazing grid element templates where you will have those types of content presented that fits your business goals. And in case you are looking for something completely different it will take just a few minutes to build your unique grid item template from scratch by using built-in WPBakery Page Builder Grid Builder.
Amount of Content
The next important part related to your portfolio content is the amount – while some business areas do not require tons of content others are used to be powered by rich descriptions or even some technical feature list. The format of the presentation can play a significant role here as well – for example, if you are using case study principles or have an image gallery for each of your portfolio items.

In terms of WordPress here you will need to decide upon the source of your portfolio. While media without rich descriptions can rely on Media Library, you may want to use posts or even some custom post type when it comes to detailed product or service descriptions. WPBakery Page Builder offers you several grid types based on post or custom post types or media which you can choose from based on your information source and amount. In addition, you can always control if you want to introduce a more detailed description of your portfolio item by leading your customers one level deeper or allow just review the work as a gallery within the same window by using media enlargement functions.
Another hot topic in terms of the amount is the number of portfolio items itself. It is not wise to try to load 100s of images on one page as not only your customers will struggle to navigate across such pages, but also the overall performance of your site will be decreased. The solution in such cases is to apply easy-to-use features like paging (even with auto-rotate), load more button, or "lazy loading" available to you within WPBakery Page Builder with one click only.
Layout and Creativity
When it comes to layout people are always looking for something "interesting", but this is not always the case you should look into. The amount of "creativity" within your portfolio must be based on your audience, not your desires or dreams. Get to know your potential customers, their habits, and preferences to see if they are open to creative layouts.
If you have a conservative business like real estate or law firm you may want to stay with the more or less regular type layout – like the default grid item template and yes, there are conservative templates to choose from as well. While most of the modern layouts are focused on grid-type portfolios some more conservative (not always) portfolio holders may still want to use list type – which is the same grid, but only one item within a row.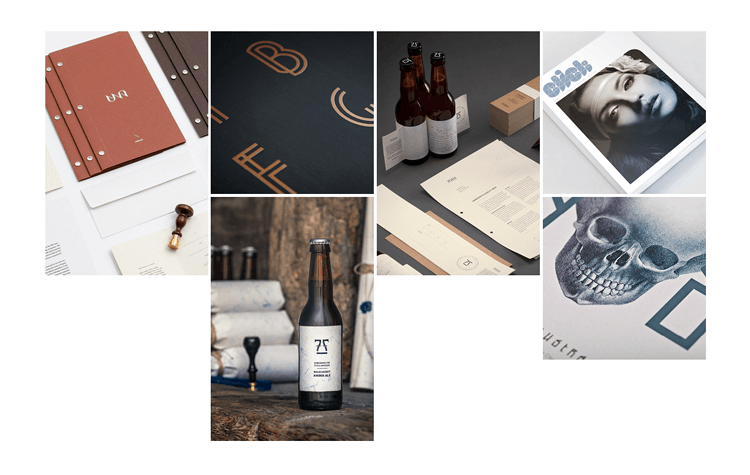 On the other hand – if your business area is fashion or you are running an artistic craft shop you can surely look into more creative grid item templates or use Grid Builder to create your grid item.
Getting to the overall layout here you again have options to choose from – regular rectangle or square blocks placed in a strict grid or list is a common choice. At the same time masonry type grid is something that customers will remember especially in combination with gaps and animations. In WPBakery Page Builder you have both – post and media grid elements available in regular or masonry style which allows you quickly to choose which style of layout you are going to use.
Categories, Groups, and Filters
It is so easy to have a portfolio where you do not have your work divided into groups or categories, but this is a rare case. Usually, there are certain lists of services or product categories you or your business offers to the public and of course, it is good practice to allow your potential customers to browse around specific groups by filtering results. While working with WordPress posts you are often using categories that can be easily represented as a filter when displaying your content with WPBakery Page Builder grid elements. While less engaged customers may look at the overall portfolio by using the default "All" state – others who are interested in a specific product category or service of yours may want to display works of this group only. In addition, such an approach can be handy when we are talking about a bigger portfolio and we are looking for ways to help our customers to navigate our portfolio in the right direction.
Grouping is another approach that can be used for several reasons we will quickly browse through. By limiting the number of portfolio items displayed either by group/source or some other parameter you can combine several WPBakery Page Builder grids and place information between those grids. For example, Separator to visually separate different types of works. Another good reason for the combination of grids is the usage of different grid item templates whenever you need to raise attention to some specific work or a group of works within your portfolio of yours. Moreover, you can use free space between different grids to display "Call to Action" blocks to have instant purchase/order options available next to your portfolio so your customers don't have to struggle across your site looking for inquiry forms or "Order" buttons.
In general, smart grouping and categorizing of your portfolio can bring significant benefits in terms of layout, and information representation and improve many other factors which all of course influence sales rate.
Conclusions
There are tons of things to experiment with when it comes to portfolio and there are tons of tools and features available within WPBakery Page Builder when it comes to building your best portfolio. A variety of grid items and Grid Builder itself offer you the option to create portfolio items that help you sell your products and services by applying necessary ascents where it is most required. Moreover, it is really easy to experiment with the features of WPBakery Page Builder by adding or removing filters, introducing paging or completely changing the layout itself. Maybe you will even think of performing A/B testing to decide which type of portfolio suits best for you – and the best part of it is that you can have completely different layouts ready for use within minutes or even seconds. If you still have any doubts that WPBakery Page Builder can enhance your portfolio – take a look at the online demo to change your mind.
* All graphic materials presented in this blog post are actual screenshots of portfolio layouts created by the WPBakery Page Builder plugin for WordPress.