WPBakery New Lifetime License Plans
Are you an agency owner or web developer creating websites for your clients? We have great news for your business – new lifetime license plans for WPBakery.
To satisfy the growing demand of agencies and freelancers for multisite license packages, WPBakery is introducing two additional plans for businesses that rely on our WordPress page builder.
With the new lifetime plans, WPBakery has become one of the most cost-efficient page builder solutions on the market.
In addition, we are expanding our agency partnership program to work closely with businesses and individuals in order to offer top-notch customer experience.
New lifetime plans
The new lifetime multisite license plans offer web professionals an opportunity to purchase WPBakery licenses for several sites at a discounted rate per site.
With a single license plan staying untouched, there are two extra plans added to the offering:
Single site license for $59
5 sites license for $256
10 sites license for $499
The gradation of the plans is made to meet the needs of the majority of web professionals and businesses with growth in mind. Plus, our customers will receive an option to lower the costs per license as they upgrade to a higher plan.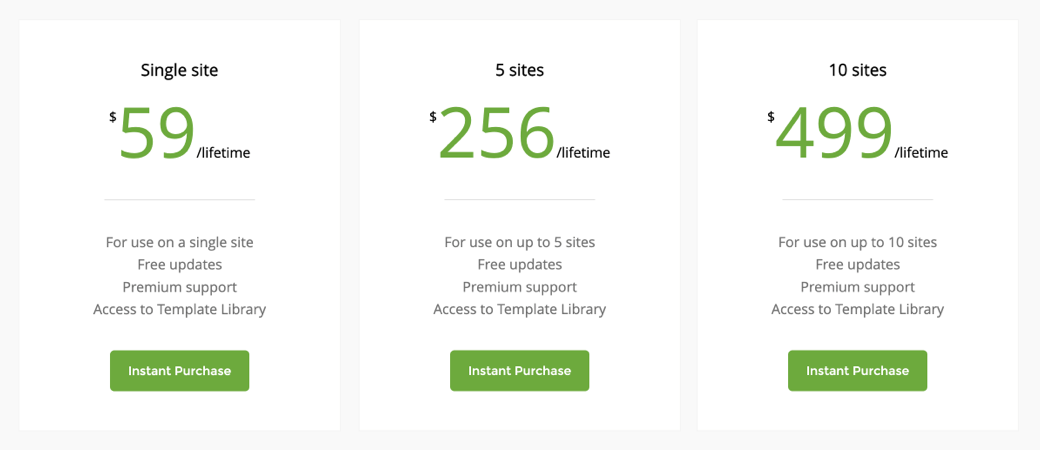 It will also allow agencies to lower maintenance costs when renewing their access to WPBakery customer support and cloud assets. Of course, lifetime plans will never restrict access to the latest product releases due to the nature of the lifetime plan.
The extended license plan will still be available to WordPress theme authors who are looking to complement their WordPress products with a reliable page builder and increase the value of their WordPress themes.
Agency partnership program for bulk purchases
Due to high demand from web creators, WPBakery will be expanding our partnership program for web agencies and freelance developers who are seeking to purchase bulk license packages.
As your business grows and your client base exceeds the standard license package offerings, we are happy to welcome you to join our agency partnership program.
The partnership program allows you to purchase any number of licenses exceeding the standard packages at a lower rate. Plus, all partnership program members receive a free upgrade to priority support that will guarantee a faster response time.
Why we made it
WPBakery Page Builder is the leading WordPress editor powering 13% of all WordPress sites worldwide. It results in 4+ million websites relying on our software solution on a daily basis.
There are many web development companies and individuals who have decided to build their businesses with WPBakery being a cornerstone in their site-building process. Our goal is to meet the growing needs of those businesses and help them grow in terms of their ability to handle more projects and attract new clients.
Our new partnership program is targeted to constantly increase the benefit of its members and allow to reduce production and maintenance costs.
To get familiar with our new license packages or become a member of our agency partnership program, visit our pricing page.