How to make WPBakery Page Builder Add-ons?
It's been a while since WPBakery Page Builder is regularly backed up by premium class add-ons. 50+ add-ons can now be easily obtained in order to enhance your WPBakery Page Builder. While few developers have one add-on, others got themselves deep into the business of WPBakery Page Builder and are offering 5+ different add-ons and even function-rich bundles. Those add-ons are regular guests in CodeCanyon weekly item top and generate huge amounts of sales and revenue.
One such developer is Sike, who has created a bunch of good and really useful add-ons for WPBakery Page Builder. Moreover, he also bundled them in an All-in-One add-on set for those who want to get the max out of WPBakery Page Builder and its community. We had an opportunity to talk with Sike in order to get insight on how he generates ideas and what he thinks about the WPBakery Page Builder market.
Hi Sike, please tell our readers a bit about yourself.
Hi there, I'm a web developer from China. I worked for a local P2P sharing site after graduating from university in 2006, it's a small startup with a few people, and everyone can do the thing they like. My day-to-day work is related to interaction design, HTML/CSS prototypes, developing the Flash video player, etc. Later I find Flash is cool, you can control both the UI and the code at the same time. At the end of 2009, I quit my job and start working as a freelance Flash developer, selling items on ActiveDen. Later in 2013, start developing WordPress plugins.
As for my personal life – early this year, we had our first baby. We had a vacation in my hometown last month and got to the south part of Fujian province near the sea. There are a lot of delicious food and fruits like lychee and longan in my hometown. Now we're living in Tianjin, the city near Beijing, as you know, the air condition is rigorous here. Plan to move to south China in the future when possible.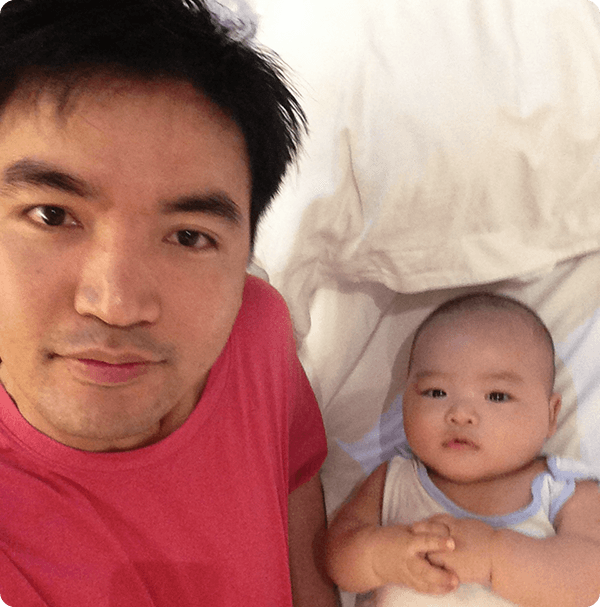 And yes, a List of my gadgets:)
rMBP 13" late 2013
HHKB
iPhone 5C
Nikon D80 with 50mm f1.8D
Kindle Paperwhite etc.
And I like playing Clash of Clans in my spare time.
How long have you been dealing with WordPress?
I registered on wordpress.com really early, you can see it from the nickname there – design.wordpress.com 🙂 Those days I was playing with Flash and WordPress for me was only a blog platform.
When did you first time saw WPBakery Page Builder? What was your experience?
I don't remember, but when WPBakery Page Builder stays at CodeCanyon's top popular item for a long time, you can't just ignore it. The first time I played with WPBakery Page Builder and found it just works and works well for an end-user (most WordPress users) to build your content with simple drag and drop. This is another way users can communicate with the text editor.
Tell us how did you get into the add-on business of WPBakery Page Builder?
Before developing the add-on for VC, I was working with traditional WordPress plugins, like the Image HotSpot Plugin. One day I started playing with the add-on sample code from the VC documentation to see how it works. And publish the first add-on later on.

You have an impressive list of add-ons, tell us a bit more about them.
Some of the add-ons are just ported from my existing plugin, like the Scrolling Notification, Masonry Gallery, etc. Others are implemented entirely new for WPBakery Page Builder. Thanks to the great API of vc map, you can focus on the UI of your add-on.
In your opinion how do your individual add-ons and All-in-One sets impact one another?
I keep a regular update (add new add-ons) for the All-in-One bundle. I need the expose on the front page of CodeCanyon, so I publish the new add-ons as individual items at CodeCanyon at the same time. The individual add-ons bring sales to the All-in-One, but the All-in-One bundle may impair the individual item's sales.
There are a lot of add-ons out there, yours are really successful – how do you generate ideas and find inspiration?
Most of the time, the idea is from my own requests. For example, I wanted a scrolling notification – found it wasn't available there, then I started a blank project, and wrote the plain hard-code HTML to test the idea/concept. Generally, I find inspiration from Dribbble, GitHub, Designer News, Hacker News, etc.
What are your plans for the nearest future?
Add more add-ons to the All-in-One bundle, and learn more about how to write clean PHP code.
Any final comments?
WPBakery Page Builder is a great time-saving tool for WordPress users. The API is more and more robust and developer friendly. Thank you, guys, for the great work.