WPBakery Page Builder Full of Stars
One of the ways how to rate products is customer satisfaction ranking. Envato Market does offer such a solution allowing everyone who purchased products via their marketplace to rate them. In addition, customers are able to provide reasonable comments to explain their given rate and decision.
From the perspective of customers, such a ranking system allows easily track successful and beloved products and of course be aware of low-rated ones which may inform them about poor quality, support, or some other product-related issues. Once you will see a popular product with a high ranking you can be sure that this is a high-quality product you may look into and if you find out that it does exactly what you need this is a win situation.
On the other side of the table, there are product owners who must care about their product ranks and be smart enough to use them as a feedback mechanism. Any time a product owner receives a low ranking it is mandatory to carefully study the reasons and act accordingly to be sure this won't happen again. Instead many product owners get angry about someone not paying "well-deserved" respect to their products. Make, receive feedback, improve, and repeat – this is a well-known mechanism of success that every company and individual should follow.
If we take a look at WPBakery Page Builder as an example – during those years we always track rankings and analyze comments we receive to discover bottlenecks within our software and align our future strategy with our custom feature requests. Such an approach involves our customers in the process of development and idea generation and ensures that we deliver the same things they are asking for at the right place and time.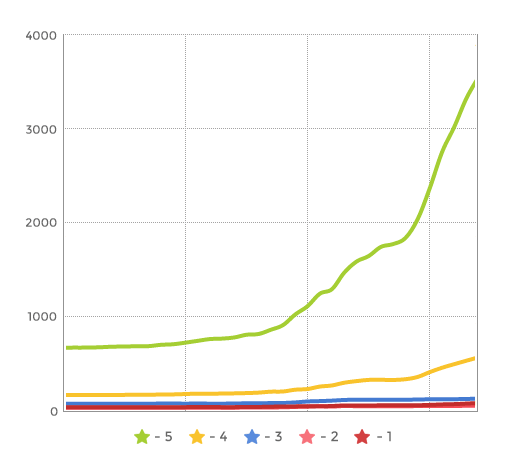 Our strategy helped us significantly improve our rankings within a relatively short period. Thanks to this approach we are 100% sure that our deliverables are meeting our customer expectations in the shortest possible time frame.